Join Card 1,000 PT Discount Promo
Beware of phishing sites! We're not associated with any sites that offers exchanges for physical items, digital goods or virtual currency.
More info
.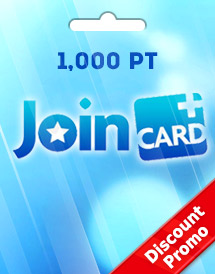 Delivery mode:
OffGamers Account
PRODUCT DESCRIPTION
Notes:
- Join Card is only applicable for Malaysia, Thailand, Hong Kong and Taiwan regions.
- OffGamers is the authorized distributor for Join Card.
- This is a promotion product, WOR token is not rewarded.
Includes:
- Join Card 1,000 PT x1

Join Card is a virtual card, currently covering Taiwan, Hong Kong, Malaysia, Thailand, and plan to expand to Japan, Korea, Europe and America. This card is suitable for many gaming platforms (Yuk Chun games, Ronchi games ... etc), and online games.

Join Now! Top up Join Card 1,000 PT for various in-game benefits!
Title: Join Card
Publisher: Gajah Technology
Developer: Gajah Technology
Release Date: -
Language: English, Chinese
Region: HongKong (HK), Malaysia (MY), Taiwan (TW), Thailand (TH)
Platform: Others
Genre: Others