Beware of phishing sites! We're not associated with any sites that offers exchanges for physical items, digital goods or virtual currency.
More info
.
2,500YEN Mora Music Card (JP) Discount Promo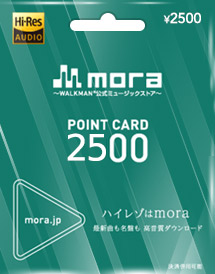 2,500YEN Mora Music Card (JP)
OVERVIEW
Mora is an online music and video store for the Japanese market. It is integrated into the Japanese version of Sony's SonicStage software and is now the official store for their Walkman devices. Up until October 1, 2012, music purchased from Mora was exclusively in Sony's proprietary ATRAC3 format with OpenMG DRM. A partner store called Mora win was also in operation, using Windows Media Audio codec and Windows Media DRM encryption, and integrated into the Japanese version of Microsoft's Windows Media Player 11 as the "recommended store" in Japan.

On October 1, 2012, Mora underwent a rehaul into a DRM free store, selling songs and music videos in Advanced Audio Coding formats. The Mora win service was also eliminated in the restructuring, with the DRM free store being integrated into the Media Go service in Windows 8. One year later on October 17, 2013, Mora began offering songs and albums as 24bit/96kHz FLAC files.
Title

:

Mora Music Card

Publisher

:

Label Gate Co.,Ltd

Developer

:

Label Gate Co.,Ltd

Release Date

:

-

Platform

:

Others

Genre

:

Others

Region

:

Japan (JP)